Advance health equity with Link to Care WA
The Link to Care WA program, powered by Community Health Network of Washington, makes it easier for Washington's community health centers to meet patients' needs and improve health outcomes by eliminating their technology barriers.
Improve health care for your patients across the digital divide
In Washington state, there is a significant 'digital divide' between households who have access to smartphones, computers, and the internet, and those who do not. This gap limits patient access to high-quality care and telehealth, and undermines social determinants of health such as housing, education, employment, and transportation. Link to Care WA puts smartphones and internet access in patients' hands, along with personalized training and support, so they can get the health care they deserve – available to all CHC patients and providers at no cost.
Bring Link to Care WA resources to your clinic
It's easy to access patient supports that can help your CHC attract, re-engage, and maintain relationships in the communities you serve – from in-clinic informational materials (we'll mail them to you), to grant funding for partner sites.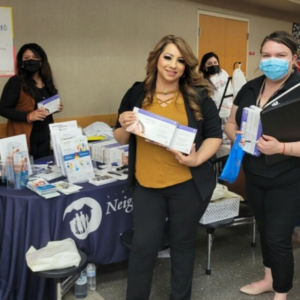 "Link to Care WA not only helps us attract community members and re-engage patients in their healthcare, it also deepens our connections with our patients and enables them to address a range of social factors that can improve their overall health. We've seen it make a real difference in patients' lives."
Rosy Navarro, Community Health Director
Yakima Neighborhood Health Services
Learn more about staff and patient supports
Link to Care WA has many resources available to support CHC leadership, staff, and their patients.