Materials for CHC staff and patients
Link to Care WA has many resources available to support CHC leadership, staff, and their patients.
Information for CHC staff
Want a deeper understanding of the Link to Care WA program, what it offers, and how to access it? Download more background information.
Join the 2023 Digital Navigation Learning Collaborative
Do you work at a CHC, are interested in Link to Care WA, but are not sure your organization is ready to join as a partner site (more information here)? Joining our Digital Navigation Learning Collaborative in 2023 (beginning Fall 2023) may be a good option.
You'll spend a year attending small group learning sessions with the current Link to Care WA partners (monthly commitment: 2-3 hours). We cover learning about digital navigation, literacy, inclusion, and equity; and planning clinic promotion activities. Grant funding is available to support CHC staff time to participate in Learning Collaborative activities.
Email us to complete a self-assessment form, which evaluates your clinic's interest in and readiness to implement a digital navigation program.
Information for CHC staff
Link to Care WA offers a robust patient-facing website with tailored information just for them. This includes information on how to use our Hotline (866-757-1832, staffed Monday – Friday, 8am-5pm with digital navigators who can provide personalized, in-language support), downloads, and informational links to resources like the Federal Lifeline and Affordable Connectivity programs, an introduction to telehealth services and how to access them, and much more.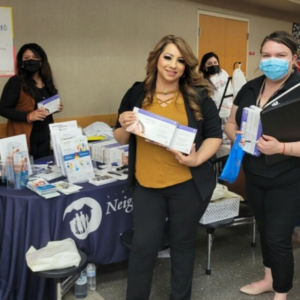 "We've seen our patients use the Link to Care WA services not only to maintain communication with their doctor but to stay in touch with loved ones from afar and stay plugged in at school remotely. We know digital equity is about whole-person health care and have seen how Link to Care WA moves Washington closer to that robust health care vision we all share."
Rhonda Hauff, CEO, Yakima Neighborhood Health Services
Contact us if you have questions about program resources, joining as a partner site, or how to access patient supports.